Guests from London arrived safely yesterday and joined us on a day tour from Pretoria. Mom, dad and a little one getting our attention as we make our way to a big 5 game reserve north-west of Pretoria.
As we leave the main road we opt for a narrow almost overgrown bush trail in search of elephants. It's hot, must be close to 40 ºC. About 20 minutes on the trail we spotted elephant footprints and freshly stripped leaves scattered on the ground indicating their earlier presence yet, as big as they are, we might not find them today….
It's a bumpy ride, dusty too but so exciting! We pass by some Impala males as we enter a clearing, yet no sight of any elephants.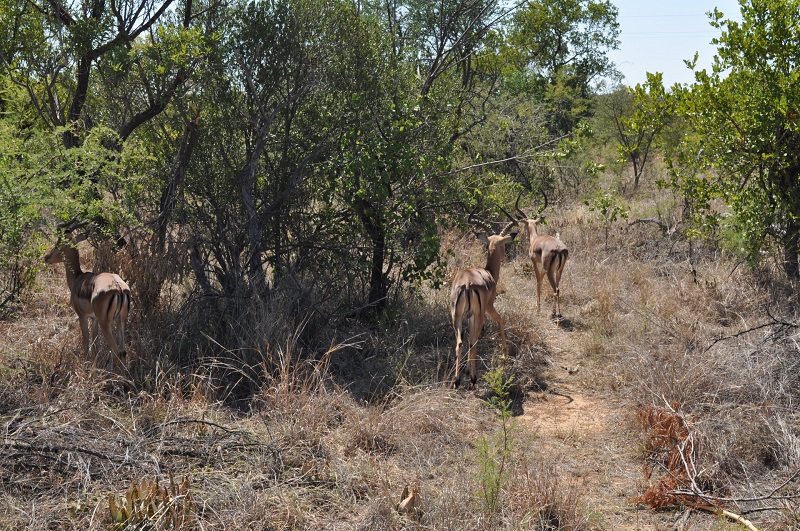 A herd of Blue Wildebeest is pretty content with our presence, the three calves nearby are getting some of the herd's attention. The calves are probably a week or two old as their reddish skin divulged their age.
The Blue Wildebeest with their calves…..
The day is getting warmer, some animals head for the shade yet no sight of any elephants. Wow, Rhino in the shade! Beautiful, so relaxed, must be the heat or have they filled their tummies and getting ready for a mid-day nap in the shade? A short distance from the rhinos is their giant communal latrine……
A giant communal latrine often called a midden is a preferred meeting place for rhino. Rhino dung is made up of desiccated grass. Chemicals in faeces allow rhinos to learn what is going on with other members of their species.
As the rhino dozes off for the afternoon, we head for a hide overlooking a dam hoping to find elephants at the dam to no avail, wonder where they are, we must have just missed them as indications pointed at there presence closeby
We continue our search for elephants, word has it that a herd was spotted in the vicinity of a nearby safari lodge. We head in that direction….  Look out! Kudu to our left, one's limping, wonder why.
Wow Eland!
It's been a while since spotting this many Eland. The largest antelope in Africa. There must be about 60 in total. Let's not spend to much time here as the elephants might have moved on by the time we get to the safari lodge where the elephants might be….
At last, the elephants! Found them!
We carefully make our way through the brush. One elephant at the watering hole just outside the camp fence, more on their way, lovely!
A fantastic safari in Africa gracefully draws to a close. We saw Impala, Waterbuck, Kudu, a lot of Eland, the Rhinos were lovely and the Elephants, wow! Thank you for joining us on this safari. Our next tour should be just around the next bush, can't wait!